The Americans with Disabilities Act ("ADA") became law in 1990. The landmark ADA legislation is aimed at preventing discrimination against people with disabilities.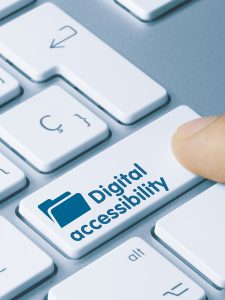 At the time it was enacted, the internet was not part of the public domain. However, as the technology became public and evolved over the past several decades, its use and versatility has exploded. People now use the internet for everything from browsing websites to shopping, researching, sharing content, and connecting with one another. As such, those with disabilities utilizing the internet (and the websites hosted therein) are protected under the core facet of the ADA — the prohibition that "no individual shall be discriminated against on the basis of a disability in the full and equal enjoyment of the goods, services, facilities, privileges, advantages, or accommodation of any place of public accommodations."[1]
As the popularity of the internet has grown, businesses have seized the benefits of creating an online presence which affords — flexibility, low start-up costs, and the ability to market to a worldwide audience. While business continues to morph with the evolution of human interaction, the business focus of late has been growing online business.
With that in mind, business owners should consider the spending power of disabled individuals which is estimated to be approximately $490 billion annually in the U.S. alone. Ignoring digital accessibility can negatively impact your bottom line because certain customers with disabilities will not be able to navigate your website. Therefore, having your website and/or mobile app ADA compliant can open the door to a large population of potential customers and avoid the legal risks outlined below.
Are you in compliance?
For some business owners, the standards required for ADA compliance are somewhat of a mystery. U.S. lawmakers have yet to fully articulate compliance obligations for websites leaving businesses to interpret the meaning of "reasonable accessibility". Despite the lack of clarity, a flood of lawsuits in the U.S. have been filed by people with disabilities against businesses alleging that they have failed to provide a reasonably accessible website mainly because they are incompatible with screen-reading software.
Even though there are no "formal" published guidelines for website ADA compliance, it is wise to have an ADA compliance audit done on your website or mobile application.
Why hire an attorney?
Given the undefined and potentially changing requirements of digital accessibility, it makes sense to work with a professional that is abreast of ADA compliance developments. Protect your business with proactive legal services.
The Leo Law Office can help your business mitigate the risk of a digital accessibility lawsuit. Contact our office today to set up a consultation.
[1] 42 U.S.C. § 12182(a).